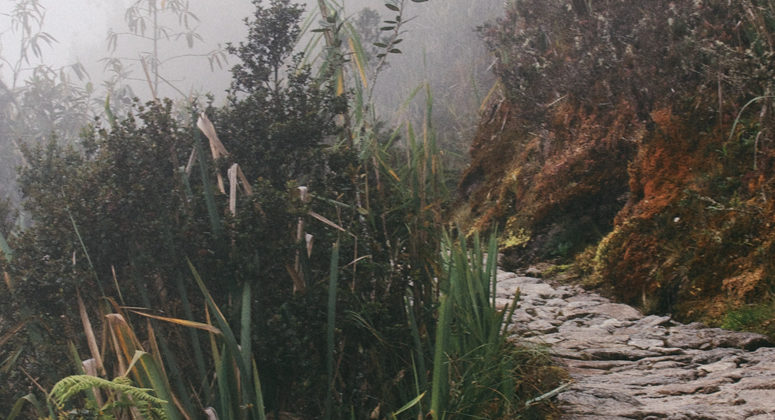 A few years ago (2018) a lady from my church asked me if she could suggest for me to talk at a monthly ladies' evening at church. She was a reader of my blog and somehow got it in her head that if I could write down thoughts then I could speak them in front of a group of people. My introverted self can assure you that writing and public speaking are very different. Having said all that, she never did get a chance to suggest to the organizers that I should speak because I said I would pray about it that week and get back to her. That same week an organizer called me and asked if I would ever speak at the next event and I took that as my cue to be obedient to God's leading and I thanked Him for the opportunity to share some of my testimony. So today I want to share some of the same thoughts I shared with the ladies at my church.
The evening's focus was self-control and being led by God rather than self. I admit I was a little stumped when I started preparing for the evening. I enjoy writing, and I write quite a bit, so my first instinct was to go through my notebooks to see if I had tackled the subject of self and being led by God before in my writing. I found a few bits and pieces but I quickly realized that self-control, and allowing myself to be lead by Christ was still a pretty closed subject in my writing because it was still an active work in progress in my life, and so I felt very inadequate to speak about the topic, and if I was to be completely honest, I still feel the same as I write here today. Something that I have come to realize is that if God is working in my life then there is always something to share. We don't have to have it all together to share what Christ is doing within us.
As I was thinking about "self" and being led by God, I found myself continually thinking about the fruit of self-control, and I feel it fits into this subject well, and so this is what I focused on. I enjoy words, and the word self-control has no poetic twist or endearing irony, it means exactly what it says. The fruit of self-control is very important, and in my opinion what often feels like a nearly impossible practice of learning to maintain control of ourselves, through Christ. I have come to the conclusion that the whole concept of self-control may be the epitome of the saying "easier said than done".
True self-control – biblical self-control, is not about bringing ourselves under our own control, but rather, under the power of Christ. I looked back and pondered on many areas of my life. I recounted many situations of dealing with temptation and sin, and I saw a disappointing but recurring pattern. I realized that I had become quite the master of tricking myself into something resembling biblical self-control, but it was more of a moment of willpower to say no at the moment – in and of myself. Something I could pat myself on the back for – which in the end did not prove to be satisfying or effective for me and my growth in Christ. I didn't realize it in these moments, but these times were often laced with glorying in myself, and this was not my desire. My desire was and continues to be for God to receive the Glory in my life, especially so, in moments of victory.
I wanted to learn to control myself with the power He supplies. Learning to say no can be taught, but I have come to find that as a born again believer saying no is just the first step, but by utilizing the strength of the Holy Spirit within us we can admit our inadequacy and the emptiness of doing it on our own. This for me seems to be the key to living a victorious life, coming to the point of admitting our inability to do it on our own. The Holy Spirit cannot work with me, myself, and I in the way, and without the strength of the Holy Spirit working within us we will never come to daily brokenness before the throne of God, to admit our inadequacy. You may all be a lot better at keeping "self" at bay, but, I use the word "daily" loosely here. I find that my switch flips from God to self very easily and I find myself having to direct my heart back to Christ often multiple times and day. But I am so thankful that we can pray for help, and secure accountability through Christ.
And God is able to make all grace abound toward you, that you, always having all sufficiency in all things, may have an abundance for every good work. And then act in faith that He will do it in and through us.

2 Corinthians 9:8 NKJV
Therefore, my beloved, as you have always obeyed, not as in my presence only, but now much more in my absence, work out your own salvation with fear and trembling; for it is God who works in you both to will and to do for His good pleasure.

Philippians 2: 12-13 NKJV
We can trust God to supply power for every good work. And then we can thank Him for every Spirit-supplied strain and success and step forward in the fruit of self-control. So, ultimately I have learned, and continually am learning that controlling myself is about being led by Christ. When I declare the truth that He is sovereign and that God has left nothing outside of His control I can rest in the freedom that I need not muster my own strength to exercise self-control. The grace of God has appeared, teaching us – not just to renounce ungodliness, but to live self-controlled, righteous, and godly lives.
For the grace of God that brings salvation has appeared to all men, teaching us that, denying ungodliness and worldly lusts, we should live soberly, righteously, and godly in the present age

Titus 2:11-12 NKJV
I am so thankful that In Jesus, we have a source for true self-control far beyond that of our feeble selves.