"My hope is built on nothing less, than Jesus blood and righteousness."
The words in this popular hymn never fail to weaken my knees, and fill me with such adoration for my Savior. My hope of eternity with the Lord is built on nothing less than the shed blood of Jesus, and His righteousness. When I think of this, I am reminded of how filthy the righteousness I think I have is, as it says in Isaiah:
But we are all like an unclean thing,
And all our righteousnesses are like filthy rags; –Isaiah 64:6a
The only good in me is that which is the work of God, and the Holy Spirit. I am so thankful the Lord has saved me, and is doing a work in my life. Now it may seem that I have it all together. That living for Christ every single moment of my life is easy, but I am here to tell you that it is hard. It is so very hard, but praise God that in the difficulty there is limitless joy if we live in obedience.
I'll be honest and tell you that there was a time in my life that I thought everything was smooth sailing. I woke up, lived through the day, and slept at night. I was doing a great job at living my life the way I thought was best.  Those few years came down to a crash one day. I woke up reflecting on my life, and I realized that God was not working in me. I had grown calloused to convictions, I had allowed myself to step over every boundary I had ever set with music, movies, TV, and so many other things, and on top of all that prayer and reading God's word was pretty much non-existent in my life. Doing all these things was easy because it was all about me, and it is very easy to please oneself, it is our natural instinct.
So what happened when I realized what was going on? I went through the most difficult 3 weeks I think I have ever gone through. It was a time of revival in my life, a time of mourning over my sin and bringing them to the foot of the cross for cleansing, a time of repentance, and turning from my sin. This is not easy, but hearing God's voice through His word, experiencing the peace of knowing the Spirit is at work in your life, and feeling God draw you to Himself is worth every battle of self. Satan does not want us to experience revival in our walk with God, and he will not make it easy, but as it says in 1 John:
You are of God, little children, and have overcome them, because He who is in you is greater than he who is in the world. –1 John 4:4
God is greater than Satan, and when God overcomes you, then you can overcome he that is in the world, and when you are able to do that, then singing "my hope is built on nothing less, than Jesus blood and righteousness" becomes real, and personal, and it becomes a song of victory! Praise God!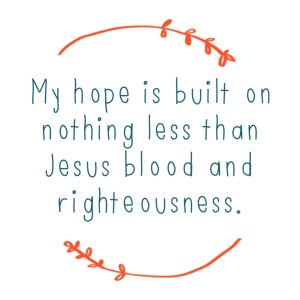 The Solid Rock
My hope is built on nothing less
Than Jesus' blood and righteousness;
I dare not trust the sweetest frame,
But wholly lean on Jesus' name.
Refrain:
On Christ, the solid Rock, I stand;
All other ground is sinking sand,
All other ground is sinking sand.
When darkness veils His lovely face,
I rest on His unchanging grace;
In every high and stormy gale,
My anchor holds within the veil.
His oath, His covenant, His blood
Support me in the whelming flood;
When all around my soul gives way,
He then is all my hope and stay.
When He shall come with trumpet sound,
Oh, may I then in Him be found;
Dressed in His righteousness alone,
Faultless to stand before the throne.